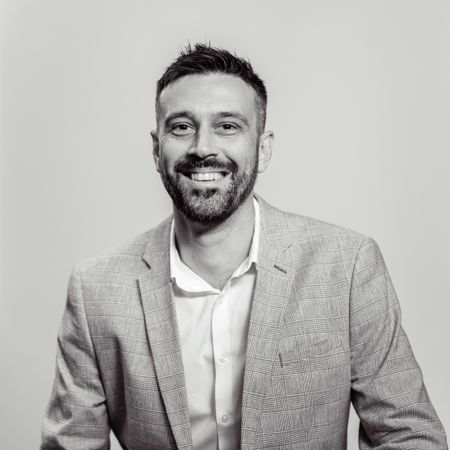 Back to Team
Ben
Lapworth
Manager | Civil & Building Services
​At 2m tall, Ben is our tallest 84'er yet! A friendly, personable guy, Ben thrives on providing the best level of service for his clients. He's an accomplished recruiter with loads of experience, using his consultative and empathetic nature to secure the best possible outcome for all parties. He's also trying to implement this diplomatic and problem-solving nature at home, especially when battles break out between his two children, normally over Lego.
"​Ben is an all-around incredibly talented recruiter. Ben puts in the extra effort to make sure he's able to set forth the best-possible placement by spending time learning about the technical fields he recruits for and getting to know the people in those fields. This enables him to play match-maker with a wider gauge of information than just ticking off experience requirement check boxes. In my case, the thing that most strikes me about Ben is how well he communicates. He is excellent about following up and giving feedback, but more than that, he is easy to talk to and somehow is always able to bring out the best in what I have to say. In addition to being a recruiter, Ben also plays the roles of ally, cheerleader, and friend throughout the recruitment process. If it's not obvious by now, I would recommend Ben as a recruiter."

​"Ben was an exceptional recruiter to work with. Ben took the time to develop a sound understanding of my goals and aspirations. He was professional in his approach and is a great communicator. I would highly recommend him to anyone, and I would personally refer my friends and associates to him. To top it off he is a great to catch up with over a beer!"

Robin W, Acoustic Engineer

​"Ben was great to work with. Personable, easy to talk to and the type of person you want to have a beer with. He was very conscious of what was best for my career and helped me get exactly what I was after. If you want to find a job or looking for a particular role he is your man."

Anthony B, Senior Engineer

​"Ben is by a long way the best recruiter I have had the pleasure of working with. He is friendly and personable, but he is also professional in his approach to the recruitment process. Ben took the time to get to know me, and used this knowledge to match my personality and skills with potential employers. He always checked with me prior to sending out any information, and I appreciated his discretion. I can not speak highly enough of Ben - he is an expert at matching companies with people."

Jamie R, Senior Civil Engineer

"My experience of working with Ben was exceptional. From initial contact until I start a new role, he consistently supported me in the process. He went above and beyond to ensure I was prepared for interviews and provided an approachable but professional service. He was attentive, helpful and patient during the process. You are by far the best recruiter I have had the pleasure of work with."​

Wanderson V, Civil Engineer

​"Ben was fantastic – great listener, in depth knowledge of the engineering industry, and well connected."