Back to Blogs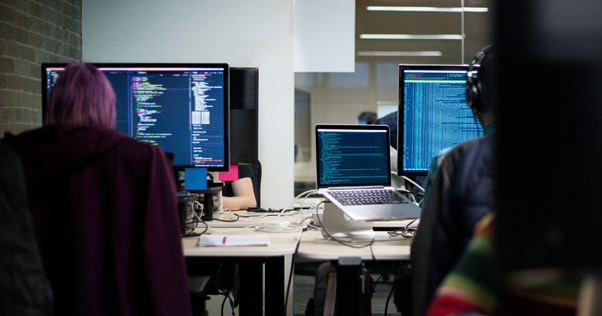 There's Never Been A Better Time For A Career In Tech: Our Predictions
​It's no secret that the technology industry has experienced exponential growth over the last decade - with a global pandemic adding fuel to an already burning fire, leaving the entire future of companies suddenly hinged on how well they could navigate the online world.
We've seen the results of the tech boom echo throughout society as well, from giants like Apple, Amazon and Google dominating the stock market, to tech-wizard Elon Musk becoming a social media phenomenon and taking out Time Magazine's Person of the Year award in 2021.
Tech is woven into every element of our lives, so how can employees get a piece of the ever-growing pie and join the momentum right here in New Zealand - and even more importantly - is it a good space to work in long term?
We spoke with Principal Consultant and resident technology sector expert Yaman Becerikli, to get his take on where careers in tech are heading, and why it's the place to be.
The roles to watch in the next few years

Generically speaking, people know that tech is a growing industry and a great space to get into. It has a reputation for offering good salaries, STEM subjects are consistently in demand at universities and many tech companies are so ingrained into our lives that they've become household names (how many days can you go without saying 'Google'?).
When it comes to specific roles and where you should be heading to get the most out of the impending market growth, Yaman has hedged his bets on these three specialisations taking off the most in the next few years.
​
Cyber security
Thanks to the pandemic, Cybercrimes have increased across the globe over the past two years because of hybrid and remote working (yep, a dodgy internet connection can put you at risk!). It's caused so many problems in fact, that companies have begun reconsidering and investing in how they're keeping their information safe.
"It's definitely a growing industry and I've seen a lot of movement in this space within the last 6-7 months. I think there will be millions of jobs created in the next few years, which is obviously a bigger space than can be filled. As these companies grow, we'll need more senior leaders and management-level employees," says Yaman.
AI / Automation
Artificial intelligence (AI) has a hand in most of the things we do now across so many sectors, and people are learning to harness the power of AI to automate processes and help employees to work smarter not harder.
"We're talking about self-driving cars, voice and image recognition, forecasting and so much more. Just about everything we're doing now is one way or another connected to AI."
In fact, Yaman says that the increase in demand from consumers has already had a massive impact on roles available.
"It's nearly everywhere now and the skills of machine learning engineers are very high in demand. It's going to be a massive increase in the automation space. AI is set to create more jobs than it may actually take away."
While people might understandably have a few reservations about the uptake in AI (anyone seen I, Robot?), Yaman believes it's actually a really positive thing and will likely have a good impact on people's jobs and make life easier at work. This even extends to the hiring process itself.
"It will lead to amazing improvements in the recruitment and hiring space, which is important for candidates because historically there has been unconscious bias in recruitment. When AI comes into play, it will eliminate that and give a lot more people opportunities to secure the jobs they've been dreaming about."
The cloud
Last but not least, there's about to be a massive demand for Cloud Consultants, Architects and Engineers, as companies continue to move their data to the place in the sky.
"Over the last few years, many companies across most industries have been investing to migrate to the cloud. Companies such as Microsoft & AWS have both invested billions of dollars for New Zealand to build data centres – the cloud is definitely the place to be in the years to come."
The certifications that will set you up for success
Of course, looking at your dream job title on Seek is one thing, but getting yourself in a position to be the preferred candidate and secure the role is another. Yaman says that the ideal certifications to start working on will depend on where you're at in your career.
"In terms of entry-level certifications, it really depends on the role. If you're doing a hands-on technical role you will need a formal qualification from a university - you can't just be in your bedroom learning those skills. Not all of the roles require qualifications, but for most engineering roles across the world, you'll be required to have a degree."
For those with skin in the game already and wanting to progress their career and climb the ladder quickly, the upskilling is a little more specific.
"It really comes down to why people upskill, which generally is to add more value to an organisation, because the more you can do that, the more you can earn."
The certifications we recommend you look into to set yourself up include Google Cloud Data Engineer, Microsoft Cloud Architect, AWS solution architect certifications, as well as Certified Risk and Information Systems Control (CRISC) and Certified information system security Professional (CISSP). If you can specialise and complete these qualifications, you'll be in hot demand.
"Having these, if relevant to the area of work that you do, definitely increases your chances of becoming a practitioner and earning potential as they're all highly in-demand certifications in the market."
Which company or role should you choose?

As with the rules of supply and demand, an increase of tech jobs in the near future combined with the shortage of candidates should mean a number of opportunities to choose from. The question then becomes, which company should you choose? Yaman says in his experience there are tell-tale signs that the company you're looking into working for is a good one - the first of which - is they'll invest in your education.
"I would say the top one for me would be looking for a company that will actively invest in your education and upskilling. Always look for companies that have clear career development plans like good trainee programmes that will set you up for success within the organisation, but also have mentors in place that will personalise the experience."
Of course, the next ever-important factor, are the benefits they offer.
"Benefits are something that has evolved over the last 12-months. There are companies coming out with awesome structures to provide benefits to employees, and some of the better ones I've seen are those that are a bit more personalised. Companies that actually ask what's going to be more beneficial to you as a person."
Finally, a winning company to join, especially in the world of tech, should have a good grapple on automation and how it can help you to do your job.
"Look for companies that understand AI and will automate parts of the process that will take pressure off you and stop you from doing tasks that you probably don't need to. That will not only keep you interested in moving forward but also keep you growing and learning new skills and smarter ways to work."
​
Borders are opening now, so what's the competition looking like?

The good news is, even though borders are set to open, if you're living here in New Zealand the demand for workers in the tech space is so high that there will always be work available in the foreseeable future. In actuality, there's still a real drain of talent out of NZ.
"We've found in a report from Auckland Airport that there are a lot more people set to leave New Zealand than are lining up to get in the country. A lot of these people are traveling to Australia because many companies in the tech space offer salaries higher there than in New Zealand and the living cost is a little lower."
That's good news for Kiwi candidates, Yaman says.
"What this means for candidates is essentially, given the shortage of talent on the market, companies will have to work harder to retain people and you will be in demand. Once you're in demand, you'll have options."
​
Convinced yet?
Undeniably, the future is bright in the information technology space. If you're looking to make the transition into tech or already work in the space and want to progress, get in touch with Yaman - he's happy to talk through it with you! As Yaman says;
"If you're considering a move to tech, it's a great time to do so - you might be behind for a year or two but if you start working full-time you will be earning more than the average person quickly in the job."